These crowd control post rock!  Stanchion Masters has sound activated stanchions that are a great fit for nightclubs, bars, roller skating rinks, concert venues, your basement or wherever the music pulses. The plastic stanchions change color and brightness to beat of the music.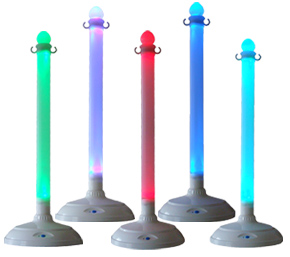 Two different settings including are available:
The first sound activated setting has the stanchion change colors with the pulsing beat of the music
The second audio setting changes the stanchion from off to on with each thunderous beat causing a color flash effect in your nightclub or party room.
STANCHION DETAILS
Plug in to standard 110 volt receptacle or battery operated
Three D-size batteries last up to 50 hours
Each Consumes 3 watts when plugged in
Synchronize 3 post together for musical magic
Made with high quality plastic
Easy to assemble Post to Base
Weight: 3 lbs, Height: 40″, Base Diameter: 14″
1 year limited warranty