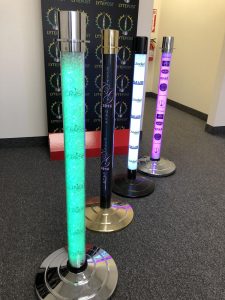 Professional LED lighted stanchions add flare to any night time event. From weddings and parties to storefront window displays and nightclubs, lighted stanchions can add color to a room, attract attention and set the tone for and event. They go great around the pool area too! Various LED lighting effects and settings including strobe, flash, fade, sound activated and mix of various speeds of strobe, flash and fade.
PROFESSIONAL LED STANCHIONS
Available with retractable belt cassette or rope post style, these professional multi-color rechargeable LED stanchions take your club or event to the next level. These attractive LED rope stanchions are also a great way to brand your label or market products.
Rechargeable and long lasting
Remote Controlled, multiple color setting and lighting effects
Hardware Color Options: Polished Chrome, Polished Brass, Black
Weight: 23 lbs, Height: 42″, Base Diameter: 14″
1 year limited warranty
$229.95 each + shipping
Stanchions are sold in pairs. Ropes are sold separately
VALUE PRICED LED LIGHTED STANCHIONS
Plugs in to standard 110 volt receptacle or battery operated
Three D-size batteries last up to 50 hours
Plugged in only consumes 3 watts (energy efficient)
Synchronize 3 post for illuminated magic
Made with high quality plastic
Easy to assemble Post to Base
Weight: 3 lbs, Height: 40″, Base Diameter: 14″
1 year limited warranty
Illuminated Stanchions are white when inactive.
$89.95 each + shipping
COLORED STANCHION RECOMMENDATIONS:
Keeping the colors uniform will make your setting look much more professional. Mix and match colors for children's events and parties.
You can use multiple colors if you are designating certain areas. For example: all blue stanchions for the Ford section at a car show, all red for the Chevy's and all green for Mopar.
Black or white plastic chain will work with just about any color lighted stanchion.
CHRISTMAS TIP: Wrap garland around the chain to accessorize for the holiday's.
Our sound activated LED stanchions are sure to be a hit in the nightclubs when the stanchions change color and brightness to the pulse of the music.