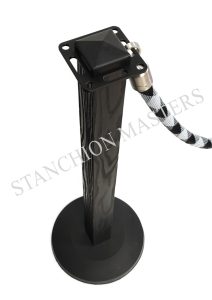 Introducing Racing Ropes by Stanchion Masters®, a fast growing brand in the crowd control industry. These top-quality ropes are specifically designed to be used with stanchions at racing events, venues and related facilities. Available in striking black and white, our Racing Ropes are not just ordinary crowd control ropes – they are created to enhance the overall experience for race fans, from the thrilling prequalifying rounds to the momentous checkered flag.
No matter the size or type of racing event, whether it's a small local racing oval, a high-speed drag strip, or a massive superspeedway, our racing ropes serve a crucial purpose. They effectively direct race fans away from potential hazards, ensuring their safety while simultaneously elevating their entire racing experience. With their sleek black and white design, these ropes not only provide essential crowd control but also add a touch of refinement and sophistication to any racing event.
We understand that every racing event has its unique requirements, which is why our Racing Ropes are available in lengths up to 8ft. This allows event organizers to cater to various event needs and ensures optimal crowd management. Furthermore, in our commitment to constantly enhance the racing experience, we offer an additional option of black and yellow ropes. These ropes serve as an effective visual warning, displaying caution in restricted access areas and ensuring the safety of both spectators and participants alike.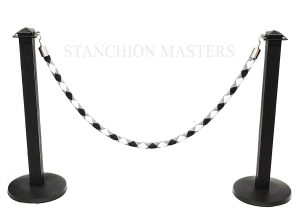 By choosing our Racing Ropes, event organizers can create a visually captivating and safe environment that immerses race fans in the excitement and adrenaline of the race. Our top-of-the-line ropes provide seamless crowd control indoors and outdoors while adding a touch of professionalism to every race event. Whether it's the Boston Marathon, track & field events, Soap Box Derby, or prestigious racing leagues such as NHRA, NASCAR, and F1, race fans around the globe love the excitement as contestants strive for the checkered flag. Racing Ropes throttle up the racing experience at racing venues and related facilities throughout the USA and around the world!
In conclusion, if you want to take your racing event to the next level, trust Racing Ropes to provide the highest quality crowd control ropes. With our ropes, you can create a visually captivating and safe environment that immerses race fans in the thrilling world of competitive racing. Don't settle for ordinary ropes – choose the best and elevate your racing experience with Racing Ropes from Stanchion Masters® and Boulevard Supply.