In additions to our aluminum posts with wood grain like finish, Stanchion Masters® offers wood plastic composite posts (WPC). The WPC posts allow us to expand our color range with an equally eco-friendly material and also lower our cost for customers in need of outdoor stanchions or indoor stanchions that need to seamlessly blend in with their wood themed decor. Wood plastic composite is a durable and weather-resistant material that can withstand the elements, making it a good choice for use in outdoor areas such as stadiums, concert venues, and parks.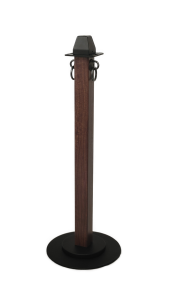 Wood plastic composite (WPC) is a material made from a combination of wood fibers and plastic. Compared to real wood, WPC has several advantages making it an ideal choice for outdoor crowd control stanchions:
Durability: WPC is more durable than real wood and can withstand the elements and extreme weather conditions, such as moisture, heat, and cold, without cracking or warping. This makes it ideal for use in outdoor applications such as on cruise ships, in pool areas or in areas that are prone to rain, snow, salty air, humidity and sunlight. It is not susceptible to rot, decay, or insect damage, making it a long-lasting choice for outdoor use.
Low maintenance: Wood plastic composite requires very little maintenance compared to real wood. It does not require staining or sealing and is easy to clean with soap and water, making it a safe and sanitary choice for crowd control.
Sustainability: WPC is eco-friendly and made from recycled materials and is a more sustainable choice than real wood. It also helps to reduce the amount of plastic waste in the environment.
Versatility: WPC is very versatile allowing us to offer a variety of colors that will make it easier for you to choose a post than matches your decor and design style.
Cost-effective: The price of real wood products has increased substantially. WPC posts will save you money up front and even more over times as your investment requires low maintenance and has a longer lifespan as compared to other outdoor stanchions.
Overall, wood plastic composite offers a practical and sustainable alternative to real wood with many advantages, making it a popular choice for both residential and commercial applications. Here are our WPC color options:
AVAILABLE in 2023
AVAILABLE in 2024
WPC COLOR DESCRIPTIONS
Amber is a warm, honey-colored wood-plastic composite.
Teak is a golden brown color with a warm, natural look.
Dark Teak is a deep, rich brown color with a luxurious look.
Ivory White is a light, warm white color with a clean, modern look.
Medium Gray is a neutral color that is neither too light nor too dark. It is a good choice for those who want a versatile color that can be used in a variety of settings.
Smoke Gray is a light-to-medium gray color with a slightly smoky or hazy appearance.
Stone Slate Gray is a dark gray color with a slightly textured surface.