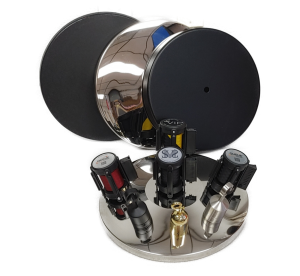 We have replacement crowd control stanchion parts including new clip ends, belt cassette assemblies, bases, base covers and other parts.
Stanchion Rope Ends for 1″, 1.25″ ropes and 1.5″ stanchion ropes in black, chrome, brass, satin, bronze and custom powder coated colors. These include open hook and thumb snap end pieces.
Stanchion Bases / Base Covers: Stanchion bases take a beating. Sometimes you can get away with just swapping out bases or base covers instead of investing in all new stanchions.
Replacement Base Pads for Stanchion Masters® two tier bases
Replacement Retractable Belt Stanchion Cassettes for most brands of retractable stanchions. Various colors and belt lengths are available.
Replacement Finials for post and rope stanchions
Contact us with the following:
The brand and model of your stanchions if possible. Pics help
The quantity and color of each stanchion part you need.
If you need replacement belt cassettes for retractable stanchions, please include belt color and length needed along with brand of stanchion.
The destination we are shipping your stanchion parts to including the zip code.
REPLACEMENT STANCHION PARTS FOR:
Visiontron Retractabelt and Retracta-Belt Prime
Queue Solutions
Tensabarrier and Tensator
QueueWay
Lavi Beltrac
Various Chinese Imports which are mostly universal including VIP Crowd Control