Stanchion post and beam has evolved into portable Rigid Rope Barriers. Stanchion Masters® has added style to typical aluminum post and beam crowd control by creating straight decorative barrier bars, aka; rigid rope barriers, that are 1.5″ in diameter just like standard stanchion ropes.
Stanchion Masters® rigid rope barrier bars are lightweight and extremely strong. The carbon fiber rigid ropes are designed to outlast typical velour, velvet and naugahyde stanchions ropes. The straight across beam offers a clean, consistent uniform appearance while maintaining the masses at your event venue.
Use between stanchions, block aisles or hallways, block off booths to reserve seating areas.
NOTE: Where cleanliness and disinfection are important, it is much easier to clean and disinfect carbon fiber tubular beams than it is a porous velvet, velour or material based stanchion rope.
RIGID ROPE BARRIER BAR COLORS
black semi-gloss
dark gold semi-gloss
dark green semi-gloss
custom colors and printing options available. Minimum orders apply. 4 Week Lead time
RIGID ROPE BARRIER BAR LENGTHS
approximately 48″ measured hook to hook
approximately 72″ measured hook to hook
Custom lengths less than 72″ also available
When appearance is important, you have options other than stanchion ropes. Even with retractable stanchions where the belt mechanism breaks or the belts lay flat and not taut. You can replace your retractable stanchions or rope with long lasting, highly durable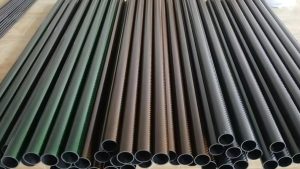 PRO's and CON's of RIGID STANCHION BARRIERS
THE PRO's: Neat and precise stanchion layout offering a professional appearance. Very easy to clean and maintain.
Longer lasting and more durable than stanchion rope. Won't corrode, rust or fray.
Stanchion Masters® colorful tubular beams are more attractive than other manufacturers rectangular post and beam.
THE CON's: Rigid stanchion barriers are fixed length which isn't really a con. Only to those that need flexibility in their stanchion layouts and set ups.
STANCHION ROPE SUPPLIERS
Contact us if you want to purchase our portable barrier bars. We recommend using your own 38mm snap ends so the snap ends match your stanchions.  It is important that the snap end and stanchions are from the same manufacturer because of color variations between manufacturers.
Actual barrier bar lengths are:
43.31″ / 1100mm – Adding your snap ends will create a portable barrier bar approximately 48″ long (4ft).
66.93″ / 1700mm – Adding your snap ends will create a portable barrier bar approximately 72″ long (6ft).
Barrier Weights: Varies slightly by end type
4ft W/O Ends = 1 lb
4ft W/ Ends = approximately 2.25 lbs
6ft W/O Ends = 1.35 lbs
6ft W/ Ends = approximately 2.60 lbs