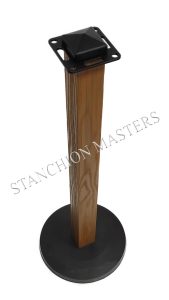 Wineries and vineyards are highly esteemed establishments that attract a sophisticated clientele. These venues often provide wine tasting experiences, guided tours, on-site dining, and even host weddings. As these customers expect top-notch service and a visually appealing environment, it is crucial for wineries and vineyards to have the right equipment. That's where Stanchion Masters® steps in as the ultimate solution for all crowd control needs.
While we may not offer traditional winery supplies such as wine bottles, corks, glassware, or harvesting equipment, our expertise lies in providing premium post and rope stanchions that perfectly complement the ambiance of wineries and vineyards. Our range of wooden and marble post colors, coupled with an extensive selection of barrier rope types and colors, caters to a wide range of styles, from rustic country themes to luxurious upscale settings. Whether your winery or vineyard is based in the USA, France, Italy, or Spain, we have the ideal stanchion options to enhance the aesthetic appeal of your wine venue.
At Stanchion Masters®, we understand the importance of maintaining a presentable and organized atmosphere for your discerning clientele. Our stanchions not only serve as functional crowd control tools but also add an elegant touch to your space. With our high-quality products, you can effortlessly guide visitors through your winery, create designated areas for wine tasting, and ensure a smooth flow of guests during special events like weddings.
When choosing Stanchion Masters® for your winery or vineyard, you can be confident in our commitment to excellence. We prioritize customer satisfaction and strive to provide durable, reliable, and visually appealing indoor outdoor stanchions and barriers that exceed your expectations. Our products are designed to withstand the demands of high-traffic areas while enhancing the overall aesthetics of your establishment.
Whether you are looking for stanchions to elevate the entrance of your winery, create elegant pathways throughout your vineyard, or establish designated areas for wine tastings, Stanchion Masters® is your go-to partner. Elevate the experience for your discerning customers by investing in our premium post and rope stanchions. Trust us to provide the perfect crowd control solution that seamlessly integrates into the unique atmosphere of your winery or vineyard, no matter where it is located in the world.