Stanchion Masters® takes pride in offering a wide selection of uniquely intriguing decorative stanchion rope sleeves. Unlike conventional stanchion ropes, our indoor outdoor poly Dacron ropes are designed to be more durable and long lasting. They are also easy to clean, ensuring that they remain in pristine condition for years to come.
One of the standout features of our rope sleeves is the range of eye-catching colors that are available. These vibrant options are sure to suit various properties and events, adding a touch of elegance and sophistication to any setting. For those looking for a classic and timeless aesthetic, our Black and White sleeves are an excellent choice. Whether it's an all-black, all-white, or a combination of gray and white, these options exude a sense of style and refinement.
When it comes to parties, holidays, or special occasions, we pride ourselves on offering a wide range of vibrant colors that are certain to inject a sense of exhilaration. Our collection of earth tone colored rope sleeves, including captivating forest green, serene olive green, elegant gray, warm brown, and sophisticated tan ropes, harmoniously complement our wood stanchions and seamlessly blend with natural environments. These remarkable options are particularly well-suited for parks, botanical gardens, grocery stores, and zoos, effortlessly enhancing their allure.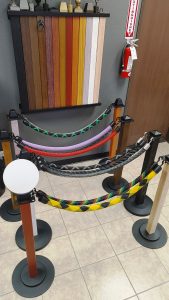 For those seeking to attract attention and infuse excitement into their gift shops, our selection of bright purple, lively pink, and eye-catching neon colored rope sleeves is unparalleled. These stunning choices serve as instant attention-grabbers, infusing a burst of energy and vibrancy into any retail space.
In contrast, our collection of white ropes, deep red ropes, and sleek black ropes, as well as the combination of white and black and other understated hues, exude an aura of sophistication, making them the perfect choice for VIP events. These subtle yet elegant colors effortlessly enhance the exclusivity and glamour associated with such gatherings, elevating them to a whole new level.
No matter the occasion, our extensive range of rope sleeve colors ensures that we have the ideal choice to suit any setting, creating an atmosphere of excitement, elegance, or refinement as desired.
In addition to their aesthetic appeal, Stanchion Masters® decorative rope sleeves and rope ends are built to withstand the elements, regardless of the weather conditions. They are designed to be highly durable and are able to maintain their integrity even in harsh environments. Furthermore, our ropes are incredibly easy to maintain, requiring only an occasional wipe with a damp rag to keep them looking their best.
Whether you're planning a party, celebrating a holiday, or hosting a special occasion, our wide range of vibrant colors is sure to bring an extra touch of excitement to your event. We offer a diverse selection of rope sleeves that can elevate the ambiance and create a visually stunning atmosphere.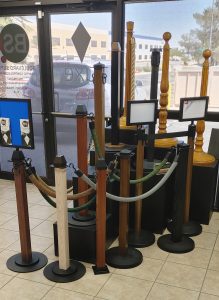 For those seeking a natural and earthy feel, our earth tone colored rope sleeves are the perfect choice. With options like forest green, olive green, gray, brown, and tan, these ropes effortlessly blend with their surroundings. They are particularly well-suited for venues such as parks, botanical gardens, grocery stores, and zoos, where a harmonious connection to nature is desired.
If you're looking to make a bold statement and attract attention, our bright purple, pink, and neon colored rope sleeves are the way to go. These vibrant ropes are guaranteed to add a splash of excitement to gift shops and create an eye-catching display that will captivate your customers.
For VIP events and sophisticated gatherings, our white ropes, dark red ropes, black ropes, and other subtle colors are the epitome of elegance. These ropes exude a sense of exclusivity and refinement, adding a touch of class to any occasion.
Beyond their visual appeal, our Stanchion Masters® decorative rope sleeves and rope ends are built to withstand any weather conditions. Designed to be highly durable, they can endure even the harshest environments without losing their integrity. No matter what Mother Nature throws at them, these ropes will maintain their exceptional quality.
Additionally, our ropes are incredibly low-maintenance, requiring only a simple wipe with a damp rag to keep them looking their best. This effortless upkeep allows you to focus on the success of your event without worrying about the appearance of your rope barriers.
At our company, we understand the importance of creating an unforgettable atmosphere for your guests. That's why we offer an array of exciting colors that are both visually appealing and built to last. With our Stanchion Masters® decorative rope sleeves and rope ends, you can elevate the aesthetics of any occasion and ensure a memorable experience for all.
Not only are our decorative ropes aesthetically pleasing, but they are also highly effective in managing crowds and creating organized queues or boundaries. They serve as a visual guide, directing foot traffic and maintaining order in any setting. The flow of guests or customers is enhanced, ensuring a smooth and efficient experience for all.
SLEEVED ROPE SIZE: Final product of rope with sleeve is approximately 1.4″ in diameter.
ROPE LENGTHS: Starting at 3ft (measured hook to hook). Average is 4′ to 6′. Longer sections are available
END CHOICE: Stainless Steel (SS), Antique Gold (AG), Matte Black (MB)
SLEEVE COLOR CHOICES: Multiple designer sleeve color options available. More pictures on their way!
USE: Indoors and Outdoors
AVAILABILITY: Please Call
AVERAGE PRICE: Pricing may vary. Average price for designer sleeved ropes are $95.00 for a 6ft rope plus shipping.
WHAT WE NEED TO KNOW
Rope sleeve color choice
Quantity of ropes
Length of ropes
Rope end color choice
Complete billing and destination details