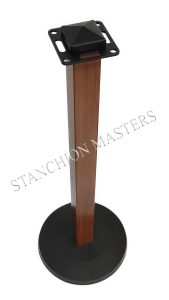 Whether you're in need of portable outdoor stanchions or landscape posts, Stanchion Masters® has the perfect solution for you. Our products are specifically designed to withstand various challenging outdoor conditions, including rain, humidity, freezing temperatures, desert sun, salty ocean air, and even wood boring insects like termites.
What sets our outdoor stanchions and posts apart is their unique construction. While they may appear to be made of real wood, they are actually crafted from all metal parts. The aluminum post section is carefully finished with a realistic wood grain texture, ensuring that they blend seamlessly into any outdoor setting. Rest assured, no one will suspect that these posts are made of aluminum unless they tap on them and hear the unmistakable metal sound.
Plastic stanchions and stainless steel stanchions, while they serve their purpose effectively, simply cannot compare to the unparalleled ambiance created by the classic elegance of wooden outdoor post and rope stanchions.
Not only do our aluminum posts offer an authentic wood-like appearance, but they also boast exceptional longevity. Unlike real wood posts that may fade or deteriorate over time, our aluminum posts retain their color and structural integrity for many years. This makes them a cost-effective and low-maintenance alternative to traditional wood stanchions.
In addition to their aesthetic appeal, our wood stanchions, landscape posts, and sign stands are built to last. They are highly durable and resistant to inclement weather conditions, preventing warping, rotting, and other forms of damage. Whether you need crowd control solutions for indoor or outdoor events, you can rely on our products to provide reliable performance year after year.
Choose Stanchion Masters® for your portable outdoor stanchion and landscape post needs, and experience the perfect blend of durability, functionality, and visual appeal.
CLICK HERE FOR COLOR OPTIONS and MORE DETAILS
THE ADDED VALUE OF RUSTIC DECOR
Rustic wood décor can add value to your commercial property. Rustic wood décor can create a warm and inviting atmosphere that can attract customers and make them feel comfortable. It can also help to create a unique and memorable experience for customers.
Rustic wood décor, including wood post and rope stanchions, can be used in a variety of commercial properties, including restaurants, sidewalk cafes, bars, hotel lobbies and retail stores. It can also be used in office spaces and other commercial buildings.
However, it is important to choose the correct wood color and finish for your wood theme. Between our aluminum posts and our WPC posts, there are over a fifteen wood post colors available that can be used for rustic décor, and each type has its own unique look and feel.
Overall, rustic wood décor and rustic post and rope can add value to your property by creating a warm and inviting atmosphere, creating a unique and memorable experience for customers, and making the property look more unique and attractive.