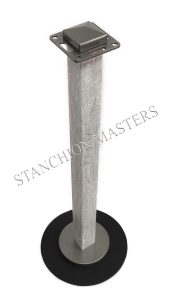 Sure, we offer an exquisite range of post and rope stanchions for your wedding venues and receptions. While our collection includes the timeless and elegant brass, gold, and chrome (silver) options, we understand that your special day deserves something extraordinary. If you aspire to create a wedding reception that surpasses all expectations, we proudly present a few exclusive options that are guaranteed to captivate your guests.
While our standard brass, gold, and chrome post and rope stanchions undoubtedly provide an elegant touch to your wedding venues, our exclusive options take it a step further. With our ethereal crystal stanchions and avant-garde designs, your wedding reception will radiate an unparalleled beauty, second only to the bride herself.
FOR WEDDING VENUES IN RUSTIC SETTINGS AND OUTDOOR SETTINGS:
Our white post and rope stanchions exude rustic charm, adding a touch of elegance to your wedding venue. For those looking to incorporate a splash of color, with substantial advanced notice, we provide the option to use stanchion ropes that match the wedding theme, allowing you to infuse your personal style into the setup. If you prefer to maintain a strictly rustic ambiance, our braided manila (tan) outdoor ropes are the perfect choice.
For an added visual contrast, you can always tie a colorful balloon or two to each post, creating a whimsical and eye-catching element. While we do offer other natural wood colors for our stanchions, white is by far the most popular choice among wedding venues due to its timeless appeal and versatility.
If you're seeking a more natural look, we also offer rustic wedding stanchions in various natural wood colors. These stanchions are available with the same hardware options of matte black, antique gold, and nickel silver, allowing you to customize the aesthetic to your liking.
For customers looking for a truly unique touch, we offer the opportunity to request custom powder coat colors for the hardware when purchasing 20 or more posts and ropes. This means that you can have the hardware powder coated in a color of your choice, such as white, to perfectly match the posts. Additionally, the rope ends will also be powder coated to ensure a cohesive and polished look throughout the entire setup.
At our company, we understand the importance of creating a cohesive and visually appealing atmosphere for your wedding venue. Our white wood stands, available with various hardware options and customizable features, guarantee that you will find the perfect stanchions to elevate the overall aesthetic of your special day.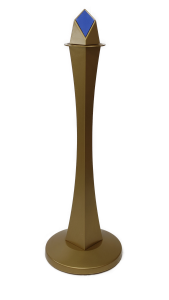 FOR HIGH-END VIP WEDDINGS, WEDDING VENUES, AND RECEPTIONS:
For wedding venues and wedding planners seeking a truly opulent and prestigious wedding experience, we proudly present our Luxe post and rope stanchions. These exquisite stanchions stand as a testament to luxury and sophistication, elevating any high-end wedding to unprecedented heights.
In order to meet the discerning standards of elite venues that command top dollar, we understand the importance of providing the absolute best in wedding equipment. Our Luxe Stanchions boast striking features – an elegantly shaped post topped with a recessed diamond inlay area. This unique design element serves as an ideal canvas for customization, allowing our valued clients to have their local print shop or wrap company create diamond-shaped inlays adorned with the couple's names or initials, available in a range of stunning colors. We may be able to assist with this as well with ample notice.
To further enhance the grandeur of your event, our Luxe Stanchions are available in three enchanting finishes: VIP matte black, antique gold, and nickel silver. We believe that every detail matters, which is why we offer a special opportunity for wedding venues purchasing 18 or more posts and ropes. With this exclusive offer, you can request custom powder coat colors for the stanchion posts, ensuring a seamless and harmonious aesthetic throughout. Additionally, the rope ends will also be powder coated to perfectly match the stanchions, creating a cohesive and visually captivating ambiance.
For those seeking an unparalleled level of elegance and sophistication, our Luxe post and rope stanchions are the epitome of luxury. Elevate your wedding to new heights with these captivating stanchions, ensuring a truly unforgettable and prestigious celebration.