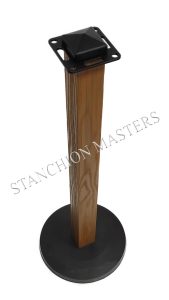 We understand the importance of creating and maintaining a specific image for your country and western style events and outdoor exhibits in Las Vegas. That's why we offer post and rope stanchions for rent, specifically designed to cater to the needs of rodeos, sporting shows, gun shows, home and garden shows, and more.
Our cowboy-style stanchions feature brown wood posts with black hardware and twisted rope, perfectly capturing the essence of the country scenes and old western themes. These stanchions not only set the mood for your guests and customers but also complement your venue and products, adding a touch of authenticity to your event.
Whether you're organizing the National Finals Rodeo, the PBR Championship, the Shot Show, or hosting performances by renowned country and western singers, our wooden post and rope stanchions are the ideal choice to maintain a rustic and rugged outdoor image. We understand that as an event venue or exhibitor, it can be challenging to store or transport all the necessary equipment. That's where we come in.
By renting our stanchions, you can easily enhance the atmosphere of your arena or display area without the hassle of managing and transporting bulky equipment. We provide you with high-quality stanchions that deliver the perfect blend of functionality and aesthetics, ensuring that your guests and customers feel immersed in the country and western experience from the moment they enter until they leave.
Don't settle for sterile metal stanchions that fail to capture the spirit of the old west. Choose our rental services and let our wooden post and rope stanchions elevate the ambiance of your events, leaving a lasting impression on your attendees. We help you create an unforgettable experience for your target audience of cowboys, cowgirls, sportsmen, outdoor adventurers, and country and western enthusiasts.