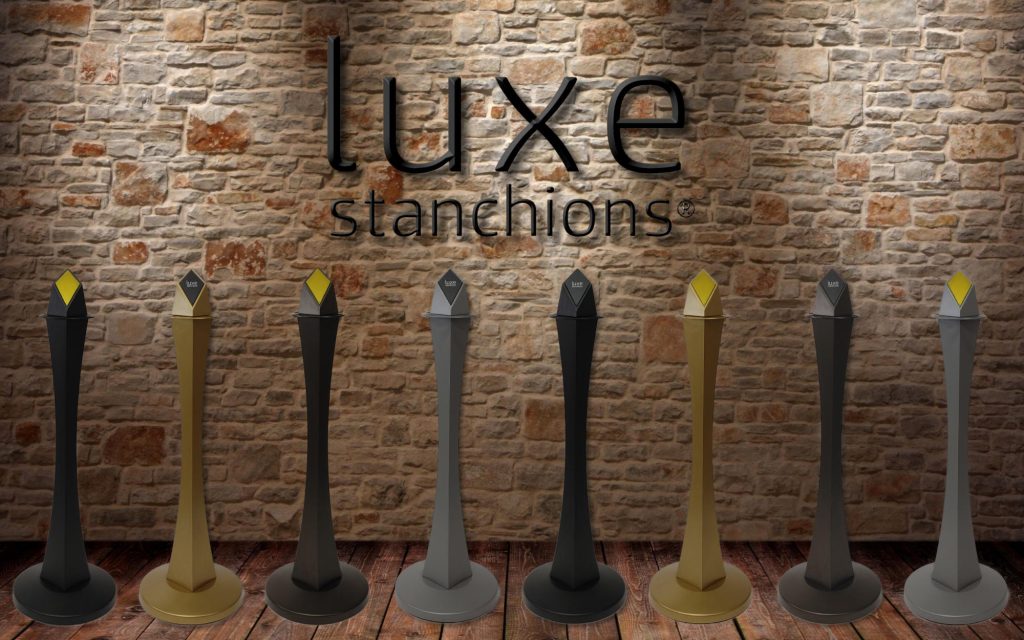 The sexiest crowd control stanchions to ever line the red carpet are Now Available! Stanchion Masters® proudly introduces our patented luxurious rope post barriers, LUXE Stanchions®.
Breaking away from standard tubular post and rope stanchion design, these luxurious beauties add class and elegance to any formal setting including VIP and celebrity red carpet events to upscale restaurants and black tie events. These slender decorative stanchions are an ideal choice for casinos, upscale and boutique hotel lobbies, restaurants, red carpet events, museums, movie theaters and event venues.
Combine with your choice of rich looking naugahyde ropes, nautical ropes, velvet ropes or our unique rigid barrier beams, these crowd pleasing luxury stanchions are the new go to post and rope choice of hotels, restaurants and casinos throughout the USA. They are designed to fit in most modern and and upscale settings, themes and venues.
Dimensions, details and specifications are as follows:
HEIGHT: 41.5″ height with rope connecting at 36.5″
WEIGHT: Approximately 30.5 lbs each
BASE: 13.75″ diameter round base
POST: 4.75″ square post at base
COLORS: Smooth black, polished gold, polished stainless
USAGE: Primarily for Indoor use, our goal is to design these for both indoor and outdoor use.
SIGNAGE: not yet available
CURRENT PRICE:
Matte Black @ $249.95 each + shipping
Fossill Silver @ $249.95 each + shipping
Antique Gold @ $249.95 each + shipping
Bronze @ $249.95 each + shipping
INTERESTED IN PURCHASING?
Please contact us if you are interested in our patented Luxe premium stanchions and if you have any questions or would like to secure an order with us.