We have a few different directions to point you in for high end stanchions designed for both outdoor and indoor use and indoor only use. Your choice depends on your decor theme. We have our very own, uniquely sexy Luxe Stanchions™ designed for luxury hotels, casinos and prestigious museums, we also have our own square tube post and rope stanchions that come in a variety of finishes for both outdoor and indoor use, and of course we offer solid high quality traditional post and rope from a variety of manufacturers we sell for Including Lavi, Tensator and Visiontron.
LUXE HIGH END STANCHIONS
First we would like to introduce to you our own line of high end luxury stanchions, Luxe Stanchions™. These beauties are sexy and like no other rope stanchion on the market. Current only available in smooth black, polished gold and polished stainless steel, we plan to offer custom special order colors by request. Two size of matching sign stands will also be available:
8.5″ x 11″ Portrait / Vertical
11″ x 14″ Portrait / Vertical
Stanchion Ropes Sold Separately
Arriving in the fall of 2020, pricing has yet to be set but we are welcoming all inquiries and comments. Please contact us
Click here for more details on Luxe Stanchions™
HIGH QUALITY STANCHIONS (INDOOR / OUTDOOR)
Next up we offer a variety of our square tube stanchions custom designed with the original intent for outdoor use but many have been purchasing for indoor use as well. The aluminum tube are finished in a variety of wood grain, marble, stone or solid color finishes with brown wood being the most popular. Wineries, clubs with outdoor patios, zoos, amusement parks and even 4 and 5 star resorts and hotels have ordered these rugged and rustic posts to enhance their wood themed decor.
These high end all metal rope stanchions start at $239.95 each plus shipping.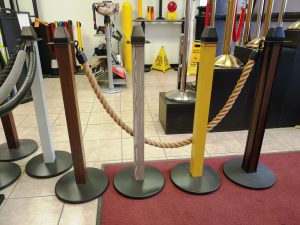 HEIGHT: Approximately 36.5″ High (Depends on finial choice)
WEIGHT: Approximately 22.5 lbs each  (Depends on accessory choices)
POST: 2.5″ Square Post (May be powder coated steel or aluminum)
BASE: 12″ Wide Hexagon Base or 12″W Square Base, or 13.75″ round
COLORS / FINISH: Custom powder coated finishes include dozens of RAL powder coat colors and dozens of

Decoral

wood grain and marble finishes.
USAGE: Designed for Outdoor or Indoor use with up to 6′ Ropes (Naugahyde and Polypropylene ropes are recommended for outdoor use)
ACCESSORIES: Rope Hooks, Rope Plates, Post Caps, internal nuts, washers and threaded rod are rust resistant stainless steel or aluminum)
SIGNAGE: Sign topper coming soon (sold separately)
$239.95 each plus shipping, ropes sold separately
TRADITIONAL HIGH QUALITY STANCHIONS
And finally you still have your choice of time-tested traditional post and rope in polished and satin (brushed) brass, polished and satin stainless steel, and custom powder coated choices.
Since we are a dealer for multiple crowd control stanchion manufacturers, please contact us with the quantity, color, base and finial style and intended use of your high quality stanchions and we will pair you up with the most suitable choice.
Pricing varies greatly between manufacturers and your style and color choice