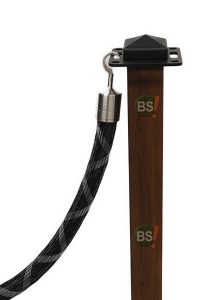 Stanchion Masters® stanchion ropes are renowned for their exceptional quality and durability, making them the ideal choice for outdoor use. Our decorative ropes, in particular, stand out for several key reasons.
Let's begin by focusing on our 1.5″ ID rope ends, which serve as both the starting and ending point of our stanchion ropes. These rope ends are crafted from heavy-duty 304 stainless steel, ensuring their ability to withstand the inevitable drops they will encounter from your employees. In fact, these ends are designed ensuring they won't break under most conditions. The use of 304 stainless steel also guarantees high rust resistance, thanks to its elevated nickel content. For an additional layer of protection, we offer the option to have our ends powder coated.
The rope itself is constructed from Poly Dacron, a synthetic fiber renowned for its strength and durability. This material is resistant to water, UV radiation, and abrasion, making it perfect for outdoor use. Our black Poly Dacron rope already looks impressive on its own, but we take it a step further by incorporating a PET braided sleeve. These decorative rope sleeves are designed to safeguard the ropes from abrasion, wear and tear, and environmental damage.
Manufactured from PET (polyethylene terephthalate), these sleeves are flexible and offer superior protection. They are created by braiding PET monofilaments together in a tubular shape, resulting in a sleeve that is not only strong and durable but also highly flexible. Furthermore, these sleeves are UV resistant and water resistant, ensuring their longevity even when exposed to harsh outdoor elements. Available in various sizes and colors, our PET expandable braided rope sleeves can be tailored to suit a wide range of applications.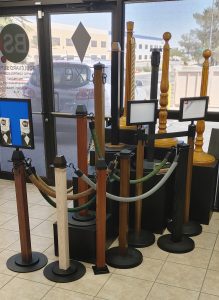 These sleeves find extensive use in industries such as construction, forestry, industrial, marine, mining, and oil and gas. Their ability to withstand the demanding conditions in these sectors is a testament to their durability. By combining these braided sleeves with our Poly Dacron rope, we offer a crowd control barrier rope that is exceptionally resilient and suited for outdoor environments.
When you choose Stanchion Masters® stanchion ropes with PET braided sleeves, you can rest assured that you are investing in a highly durable and reliable solution for your outdoor crowd control needs.
Here are some of the benefits of using poly Dacron rope for outdoor use:
Durability: Poly Dacron rope is very strong and durable. It is resistant to tearing, breaking, and fraying. This makes it ideal for use in outdoor applications where it will be subjected to heavy use and wear and tear.
Water resistance: Poly Dacron rope is water resistant and will not rot or mildew. This makes it ideal for use in wet environments, such as on boats or around pools.
UV resistance: Poly Dacron rope is UV resistant and will not fade or degrade in the sun. This makes it ideal for use in outdoor applications where it will be exposed to direct sunlight.
Abrasion resistance: Poly Dacron rope is abrasion resistant and will not wear down easily. This makes it ideal for use in applications where it will be subjected to friction, such as ropes and cords.