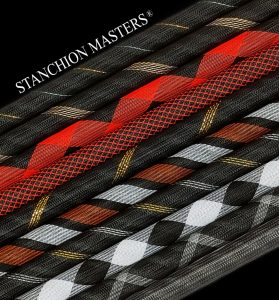 When it comes to stanchions and rope, the options available are vast and varied. However, many people struggle to find the right stanchions for their intended use due to the different terminology used and the resulting confusion. Whether you are looking stanchions and rope for sale or for rental, it is crucial to use the correct terminology to ensure accurate search results. With the integration of AI in search engines, the prompt you provide becomes key in determining the results you receive.
Let's start with searching for rope. A common mistake is using the phrase "velvet ropes" when searching for stanchion ropes. While this may be fine if you specifically want velvet ropes, it severely limits your options and prevents you from discovering other attractive rope choices that may be better suited for your needs, especially if you require ropes for outdoor use. In addition to velvet and velour ropes, there are also naugahyde ropes, manila ropes, pro-manila ropes (made of polypropylene), microfiber ropes, polyester ropes and vinyl ropes available in the market. Furthermore, Stanchion Masters® now offers a range of decorative sleeves that are perfect for both indoor and outdoor use. These sleeves break away from traditional solid color stanchion rope choices and come in a variety of standard and unique solid colors, as well as multi-color ropes featuring black, purple, and vibrant neon colors, as well as subtle and neutral combinations.
When prompting an AI-driven search engine for stanchion ropes, it is essential to be specific with details. For example:
if you need festive stanchion ropes for an outdoor party with a Cinco de Mayo theme, a good AI prompt would be: "Show me five stanchion ropes that are fun with bright vibrant colors, suitable for outdoor use with black stanchions."
Similarly, for a classy and sophisticated outdoor VIP event, a prompt like: "Show me five stanchion ropes that are classy and sophisticated, suitable for outdoor use with black stanchions" would be appropriate.
What is the best type of stanchion rope to use outdoors for a nautical themed retail store near the ocean?
It is worth noting that AI is still in its early stages and continuously evolving. While it may not always provide spot-on results currently, it is expected to improve over time. If you find that your search results are not meeting your expectations and you desire more options, it is advisable to reach out to companies like Stanchion Masters®. They have extensive connections in the crowd control industry and can provide creative solutions or direct you to someone who can assist you.
If your search results are currently not up to your expectations and you want more options, it would be wise to contact a company such as Stanchion Masters®. Stanchion Masters® has multiple connections in the crowd control industry and they are creative thinkers as well. They may have a stanchion and rope solution for you or we can possibly point you in the right direction and refer you to someone that can hep.
Now, let's discuss searching for stanchions. Similar principles apply when searching for post and rope stanchions. Factors such as budget, intended use (indoor or outdoor), color options, style, material (metal, wood or marble), frequency of handling, and location all play a role in determining the right stanchions for your needs. Once again, it is crucial to provide detailed search phrases and prompts to ensure you receive the best choices and suitable stanchions and rope for your requirements.
In conclusion, when it comes to stanchions and rope, being specific and detailed in your search phrases and prompts is essential for finding the right options. AI technology is continually improving, but if you are unsatisfied with your search results or need more assistance, reaching out to companies like Stanchion Masters® can provide you with expert guidance and recommendations.