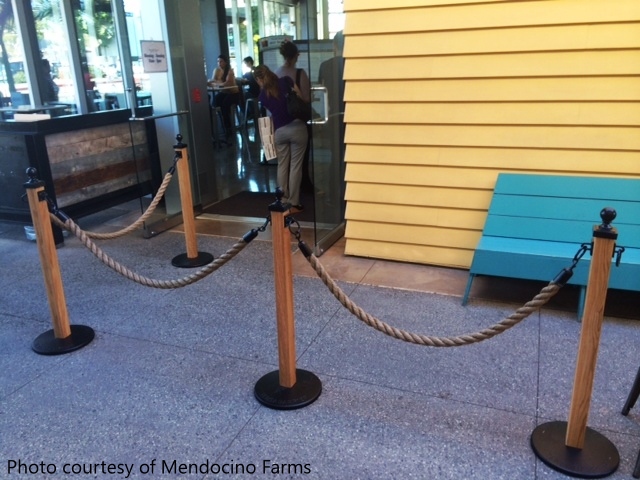 We have custom wood post stanchions made with premium oak stained hardwood. Southwestern style wooden post stanchions add a country ranch atmosphere while providing crowd control for your store or event. The wood stanchions shown are recommended for indoor use only.
41″ High, 27 lbs each
2.5″ Square Post, 13.5″D Base
For use with 6′ Ropes
$169.95 each plus shipping, ropes are extra
Our rustic wood stanchions are available with Naugahyde, hemp or polypropylene ropes. A variety of rope colors and hook ends are available.
RED OAK WOOD STANCHIONS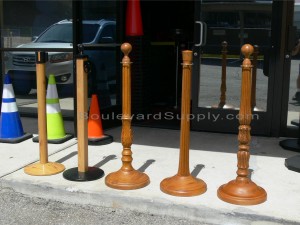 If you wish to order any of the red oak wooden stanchions, please contact us with quantity desired, model number, rope ring color choice (brass or chrome) and shipping destination. (Red oak stanchions are not to be left outdoors or used during in-climate conditions)
Square base with same posts are also available with the red oak wooden stanchions.
STARTING AT $179.95 each plus shipping, ropes are extra
HIGH END WOOD POST STANCHIONS
We now offer rich looking mahogany post stanchions. These are designed for high end settings such as upscale restaurants, wineries, financial institutions, 4 and 5 star resorts, hotels and casinos. However, although the mahogany post offers a rich, wood grain appearance, the stanchion posts are all metal.
Strictly for indoor use, they will add class to your establishment for years with proper care.
The high end mahogany post stanchions start at $199.95 each plus shipping. Other wood grain finished are available.
CALL FOR QUOTE
ROPE CHOICES: We have a variety of stanchion ropes available from velour (velvet), naugahyde, leather, braided hemp and braided polypropolene which is recommended for outdoor use. Please have length and color of ends available when contacting us. It is recommended to use ropes no longer than 6′ in length with these stanchions.