We offer a variety of wooden stanchions from exotic to rustic to upscale in appearance, add country flare or high end class to your event space or business venue.
WOOD STANCHIONS FOR OUTDOOR USE (or indoors)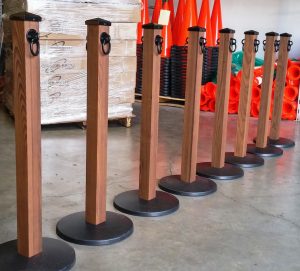 Stanchion Masters has created a heavy duty wood stanchion for outdoor use. These rustic beauties will look good in any park, botanical garden, country store, ranch, amusement park or western themed bar.
Stanchion Masters wooden stanchions are built with eco-friendly Thermo hard wood (read more) and stainless steel hardware to withstand just about anything mother nature can throw at them. Harsh desert sun, frequent rain and knee deep snow have met their match!
HEIGHT: 38″ High (Depends on finial post cap choice)
BASE: 13.5″ Cast Iron Base
POST: 2.5″ Square Solid Thermory Ash Post
WEIGHT: 24.5 lbs
COLOR: Thermo Ash (shown) or Thermo Pine. Left unsealed or stained, they will patina to a gray over time. Your choice to seal or stain. We do recommend sealing when they will be used in frequently wet conditions.
USE: Indoors or Outdoors.
AVAILABILITY: Call for lead time
PRICE: $239.95 each plus shipping
Ropes Sold Separately: Recommended  stanchion ropes types are Naugahyde, hemp (manila) or polypropylene ropes up to a maximum of 6 feet in length
Warranty: 5 Years against Manufacturers Defects
WOOD STANCHIONS FOR INDOOR USE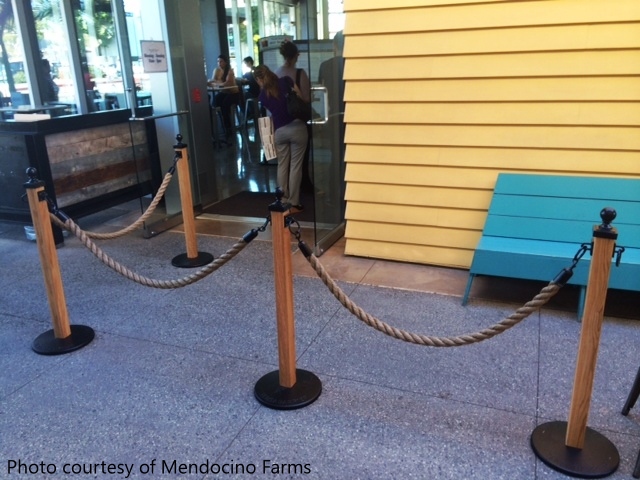 We have custom wood post stanchions for sale made with premium oak stained hardwood. Southwestern style wooden post stanchions add a country ranch atmosphere while providing crowd control for your store or event. Tensabarrier 307 Hitching Post wood stanchions are recommended for indoor use only.
41″ High, 24 lbs each
2.5″ Square Post, 13.5″D Base
For use with up to 6′ Ropes
$169.95 each plus shipping, ropes are extra
Our rustic wood stanchions are available with Naugahyde, hemp or polypropylene ropes. A variety of rope colors and hook ends are available.
HIGH END WOOD POST STANCHIONS (INDOOR / OUTDOOR)
Available in a variety of red, white, brown and gray wood grain finishes, these high end stanchions are suitable for both outdoor and indoor settings. Upscale restaurants, wineries, financial institutions, 4 and 5 star resorts, hotels and casinos can all utilize these all metal stanchions to enhance their wood themed decor.
These high end all metal wood grain rope stanchions start at $279.95 each plus shipping. Other wood grain finished are available.
36.5″ High, 22.5 lbs each
2.5″ Square Post, 12″ Hexagon Base
For use with up to 6′ Ropes
Stainless steel hardware, aluminum post and cap
$279.95 each plus shipping, ropes sold separately
RED OAK WOOD STANCHIONS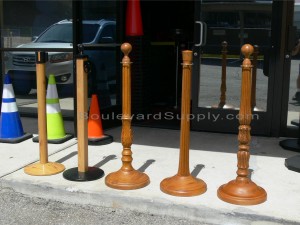 If you wish to order any of the red oak wooden stanchions, please contact us with quantity desired, model number, rope ring color choice (brass or chrome) and shipping destination. (Red oak stanchions are not to be left outdoors or used during in-climate conditions)
Square base with same posts are also available with the red oak wooden stanchions.
STARTING AT $179.95 each plus shipping, ropes sold separately
CALL FOR QUOTE
ROPE CHOICES: We have a variety of stanchion ropes available from velour (velvet), naugahyde, leather, braided hemp and braided polypropolene which is recommended for outdoor use. Please have length and color of ends available when contacting us. It is recommended to use ropes no longer than 6′ in length with these stanchions.