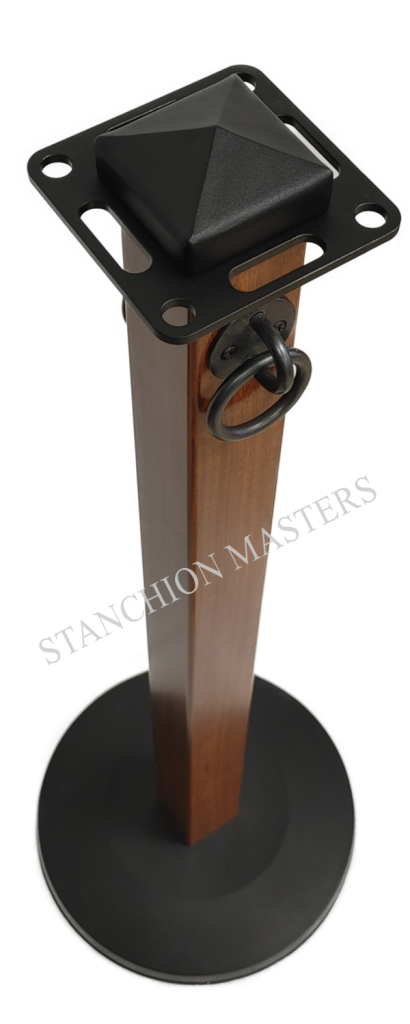 Are your crowd control stanchions leaning? Is the retractable belt hanging down and no longer retracting? Base covers scratched and dented? Are your ropes faded or worn or rope ends broke?  Your current crowd control stanchions had a good run but at a certain point, it's time to replace your current stanchions. A poorly performing product such as a leaning stanchion is a reflection upon your property. It's important to utilize well maintained equipment.
So you make the wise decision to replace your current stanchions with new ones. Do you go with the same style replacement stanchions or is something new that offers more options available now?
WHAT TO CONSIDER WHEN PURCHASING NEW STANCHIONS:
What is your budget?
Are your stanchions going to be used outdoors frequently?
Are you near salt water or is the air salty in your location?
Will the stanchions be handled rarely, occasionally or frequently?
How soon do you need them?
What color posts do you want?
What color ropes do you want?
How many do you need?
Did you make a map of your intended layouts?
When stanchions are set up for their primary function of crowd control, they effectively maintain and control the flow of guests. However, what if stanchions could offer more than just crowd control? That's where Stanchion Masters® post and rope barriers come in. If you haven't heard of us before and skipped over our products in your previous purchase, you definitely missed out on getting the best value for your money.
With Stanchion Masters® post and rope barriers now available, you have the opportunity to not only replace your old stanchions but also upgrade them. Our post and rope barriers are not just functional crowd control devices; they also serve as accent pieces for your décor and become conversation starters for your guests, enhancing their overall experience.
Commercial décor and themes are trending towards sustainable designs including wood features. We offer a wide variety of wood grain post colors, allowing you to choose the perfect match for your property. Additionally, we offer various rope and hardware options, giving you the flexibility to create a winning combination that will be utilized and enjoyed by both your staff and guests for years to come. Whether you prefer brown wood colors, black and white stanchions, or options like cedar, mahogany, oak, walnut, and more, we've got you covered.
You also have the choice between a low-profile, wheelchair-friendly base or a standard thick base, depending on your specific needs. Furthermore, we offer different post cap choices and hardware colors to further customize your stanchions.
Worried about using your stanchions outdoors or in wet environments? With Stanchion Masters® post and rope barriers, that's not a problem. Our products are designed to withstand both indoor and outdoor use, making them suitable for practically any location. Whether you need to use them in a wet environment or near the ocean, our stanchions are built to withstand these conditions without compromising their functionality.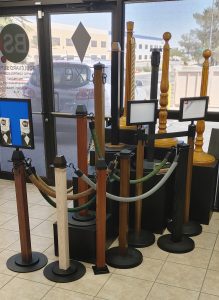 In addition to the new, upgraded post and rope crowd control system, we are proud to introduce our remarkable collection of next level ropes. These ropes have been specifically designed to complement and enhance your upgrade, ensuring a seamless and professional crowd control experience.
Our black braided outdoor ropes are not only visually appealing but also incredibly durable. Crafted with heavy-duty stainless steel ends, these ropes are built to withstand the rigors of any event or venue. You can choose to purchase them "As-Is" for a sleek and sophisticated look, or opt for our unique decorative sleeves to further elevate their appearance.
To cater to a wide range of preferences and styles, we offer a diverse selection of rope sleeves. For those looking for a more natural and earthy aesthetic, our earth-tone sleeves in olive green, brown, and gray are the perfect choice. These sleeves beautifully complement all shades of wood posts available in our collection, creating a harmonious and cohesive crowd control solution.
For those seeking a bolder and more vibrant look, we offer an array of solid color rope sleeves. From striking hues like pink, dark purple, lavender, and blue to classic options like white and red, our solid color sleeves allow you to add a pop of personality to your crowd control setup. Additionally, we provide neon colors and other unique options for those who dare to be different and make a bold statement.
No matter your preference, our extensive range of rope sleeves ensures that you can customize your crowd control system to perfectly align with your brand, venue, or event theme. Elevate the overall atmosphere and create a lasting impression with our exquisite selection of next level ropes and sleeves. Upgrade your crowd control experience today and leave a remarkable impression on your guests.
So why settle for ordinary crowd control stanchions when you can have Stanchion Masters® post and rope barriers? Upgrade your crowd control game and give your property a touch of elegance with our versatile and durable products.